CELEBRATING THE GOOD LIFE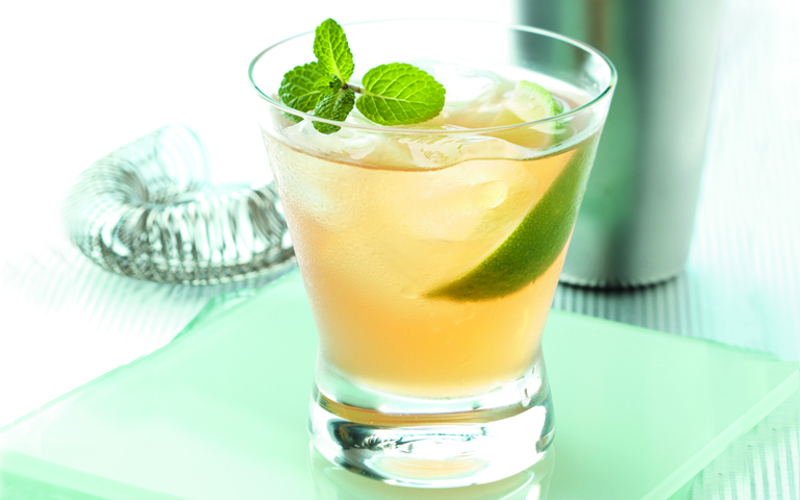 International Flavor
House Specialties Around the World

What better way to savor the character of a topnotch resort or club than to finish off a round with a perfectly mixed specialty of the house. All around the world, the gifted hands of a seasoned mixologists are working with a variety of ingredients and blends—be they local, traditional or unorthodox—to give the game a truly international flavor. From margaritas to martinis, honneysuckles to handballs, house specialties mix local charm with ingenuity for a universal appeal.
The Albatross
San Roque Club
Cadiz, Spain
2/10 liter Bacardi rum
1/10 liter sherry
1/10 liter Cointreau
4/10 liter mixed juices
A few drops of grenadine
A squeeze of lime juice
Mix all of the spirits with the mixed juices. Add grenadine and squeeze of lime. Serve over ice with a garnish.
The Honeysuckle
Seminole Golf Club
North Palm Beach, Florida
2 ounces of light Bacardi Light rum
ó ounce Myer's Dark rum
3 six-ounce cans pineapple juice
ó can pinapple rings (and juice)
2 ounces simple syrup
3 ounces orange juice
4 ounces honey
Pour all ingredients except Bacardi and Myer's rum into a blender. Blend until smooth. Makes one quart premix. Fill highball glass with premix and ice cubes. Add the rum and stir.
Port Cobbler
Quinta do Lago
Algarve, Portugal
4 ounces Taylor Fladgate Tawny
1 teaspoon orange juice
1 teaspoon Curacao
Fill two-thirds of a tumbler with crushed ice. Add the orange juice and Curacao and stir. Pour in the port and garnish with a slice of orange and a pineapple stick.
Lighthouse Sour
Turnberry Hotel
Ayrshire, Scotland
A healthy dram of Single Malt Scotch
2 ounces of fresh lime juice
A dash of egg white
Put ingredients into a shaker and shake well. Pour mixture into a highball glass
and top off with soda. Garnish with a slice of lime
Tropical Martini
The Sagamore
Bolton Landing, New York
3 ounces Absolut vodka
Fresh pineapple
Slice pineapple into rings and infuse with vodka for three days to one week in a container. Serve on the rocks or in a chilled martini glass. Garnish with a piece of the flavored pineapple.
Cranberry Cooler
Pinehurst Country Club
Pinhurst, North Carolina
5 ounces chardonnay
3 ounces cranberry juice
splash of Sprite
Pour chardonnay into a tall glass and add cranberry juice until glass is almost full.
Add ice. Top off with a splash of Sprite and garnish with a slice of orange.
Off The Tee
Gleneagles Resort
Perthshire, Scotland
7/8 ounce Glen Turret Whiskey
chilled champagne
Pour whiskey into champagne flute, top up with champagne. Add a vanilla pod.
The Handball
The Olympic Club
San Francisco, California
2 ounces vodka or gin
6 ounces of fresh orange juice
6 ounces Calistoga mineral water
Combine ingredients and serve in a 20 ounce glass over ice.